Green Zone
---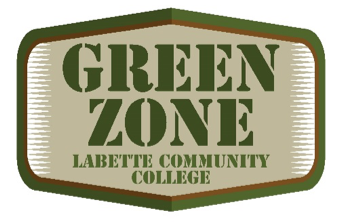 Military-Connected Student Services is now offering Green Zone training to faculty and staff of Labette Community College who want to learn more about the military-connected student experience. Transitioning from military life to student life can be difficult for military-connected students. Unlike the structured atmosphere from the military, colleges like Labette Community College have a variety of departments and administrative areas that can be challenging to navigate. The Green Zone training program is designed to give our students a way to recognized staff and faculty who have been trained to be a resources and allies for military-connected students (Veterans, Active, Reserve, Guard, and family members). The goal is to make LCC a more military/veteran-helpful college.
---
What is Green Zone?
An initiative to support military-connected students by designating locations recognized as a "safe place."
Identifies faculty and staff at LCC who are knowledgeable about issues faced by military-connected students and the resources or contacts available to assist them.
Participants are identified by a Green Zone emblem located outside their office door and/or can be made available to put on their syllabus.
A way to be supportive and give back to those who have sacrificed for others.
Helps faculty and staff provide supportive services necessary to ensure that military-connected students are successful in their academic pursuits, adjust to the campus environment, and eventually transition to civilian employment.
---
Who is a Green Zone volunteer/ally?
LCC staff and faculty who identify themselves as:

Someone who has completed the Green Zone training.
Someone who is aware of the issues and concerns faced by military-connected students.
Someone who is available and willing to assist the student or get the student connected to someone who can assist.
---
Volunteers are NOT expected to be experts who can "solve" the problems, instead:
They lend a sympathetic ear.
They help the student find the appropriate resources or individual for problem resolution.
---
Current Green Zone Volunteers
Below are Green Zone Volunteers. These individuals have completed the Green Zone training and are available to assist you.