Houk Named Van Meter Award Recipient
---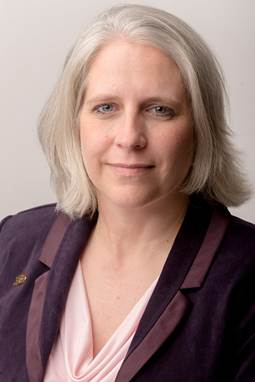 Parsons, KS- The Labette Community College Alumni Association announces the 17th Annual William & Allene Guthrie Van Meter Outstanding Alumni Achievement Award. The 2016 recipient of this prestigious award is Bonnie Houk of Girard, KS. Houk graduated from St. Paul High School in 1986. She earned an Associate of Applied Science Degree in Medical Secretary as well as an Associate of Applied Science Degree in Legal Secretary at Labette Community College in 1988. She received a Paralegal Certificate in 1988 from Pittsburg State University. Then, she went on to earn both a Bachelor of Arts Degree in Political Science in 1989 and a Master of Arts Degree in History in 1995, both from Pittsburg State University.
For the past 26 years she has been employed by the Southeast Kansas Education Service Center-Greenbush, Girard, Kansas, in a variety of capacities. Initially hired in 1990 to establish a Medicaid billing program for school districts, Houk transitioned to the development of a self-funded health insurance program for school districts in 1996. Challenged to take on a new role, Houk established the service center's grants development office in 1999. For the past 17 years she has served as the Director of Grants Management, providing grant development, management, and evaluation services to the service center, the Kansas State Department of Education, school districts, and other local governmental entities across Kansas. Her efforts have provided more than $64 million in grant funding for programs to benefit students and citizens across Kansas.
In 2008, Houk received her Grant Professional Certified (GPC) certification through the Grant Professionals Certification Institute (GPCI). She was appointed to the GPCI board of directors in 2011 and is currently serving as President. In addition to her volunteer contributions to this national board, she also serves on the Kansas Association for the Gifted, Talented, and Creative (KGTC) board as treasurer. Houk also serves as the chair of the service center's Institutional Review Board. Professionally, she is a member of the Grant Professionals Association and the American Evaluation Association. Previously she served for three years as chair of the Grant Professionals Association Ethics Committee and had the distinction of being the longest serving member of the GPA ethics committee (six years of service). Locally, she has served on the Crawford County Planning and Zoning Board since 2009 and since 2007 has served as the secretary for Beulah Community Church in Beulah, Kansas. She also serves as church pianist, a position she has held for 35 years at various churches.
During her education at Labette Community College, Houk served as a Student Ambassador and was a member of the Office Education Association (now Business Professionals of America). While attending LCC she worked part-time for the Garner CPA firm, the Retailers' Credit Bureau, Dr. Daniel Pauls, and Steven Stapleton Law Firm. After transitioning to Pittsburg State University, Houk was a member of Phi Sigma Alpha (National Political Science Honors Association) and Phi Alpha Theta, Lambda Chapter (National History Honors Association).
Houk's hobbies include playing the piano, reading, quilting, gardening, and raising chickens. She married her high school sweetheart, Brent in 1989. They have two children. Their eldest, Logan, is a recent graduate of Pittsburg State University and is currently pursuing his Master's degree at PSU. Morgan, their youngest, is a sophomore at Oklahoma University in Norman, where she is pursuing dual majors in Physics and Biology with a pre-med emphasis.
The Van Meter award will be presented at the 19th Annual Donor Appreciation Luncheon on Friday, November 4th. The award was named in memory of the Van Meters for their generous estate gift that funded renovation of Thiebaud Theatre at LCC. William was a 1929 graduate of the college and Allene taught romance languages at the college from 1929 to 1935. Previous Alumni who have received this award include; Melissa Morris in 2015, Kevin A Moore in 2014, Dr. Douglas A. Gardenhire in 2013, Gary Bandy in 2012, Dr. CJ Huff in 2011, and Dr. Jerry Bouman in 2010. For a complete list of recipients or for more information on the William and Allene Guthrie Van Meter Outstanding Alumni Award, please contact Lindi Forbes, LCC Foundation and Alumni Director, at (620) 820-1212 or by e-mail at lindif@labette.edu.