Pete's of Erie, Inc. Pledges to LCC Capital Campaign
---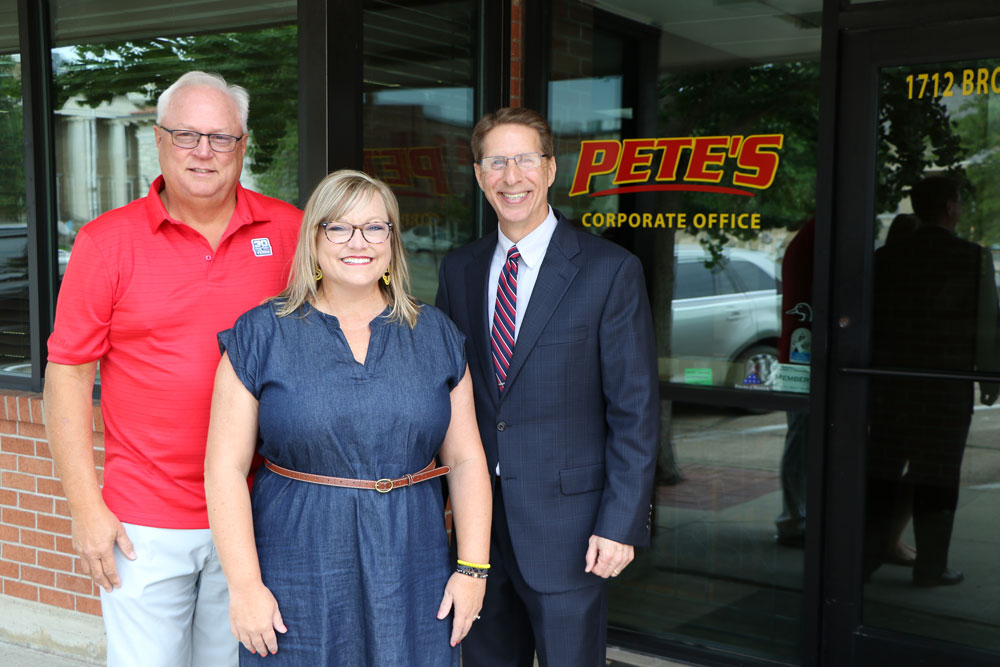 Photo: l to r: Pump'n Pete's co-owner, Gratz Peters; Labette Community College Foundation Executive Director, Lindi Forbes; LCC President, Dr. Mark Watkins gather for a photo during the announcement of Pete's of Erie, Inc. pledge to the LCC Pathways to the Future Capital Campaign.
---
Parsons, KS- Pete's of Erie, Inc. has pledged $100,000 to support the next phase of Labette Community College's Pathways to the Future Capital Campaign. This gift will help the college renovate and expand the athletic facilities to meet the needs of students and serve the community better.
Pump'n Pete's was established in November 1977 in Erie by the Peters family. What began with a 2-bay full-service gas station, has grown to a business with 42 convenience stores located throughout Kansas, Oklahoma and Missouri. "Our customers are loyal. The growth of our business has been because of customer loyalty and hard work," said co-owner Gratz Peters. Pete's of Erie, Inc. is privately co-owned by brothers by Gratz and Gary Peters. "When we began in the convenience store business over 40 years ago, we didn't really know what we were doing! Our customers and some of our 30+ year employees have grown up together!"
Pete's vision is to provide fast service, a friendly smile, fully stocked shelves and a fresh look from the fuel pumps to the inside store offerings. Their vision and the mission of the college are in line to provide growth and quality services to their customers. 
The landscape of Pump'n Pete's convenience stores has evolved in over 40 years of business. What began as a small town gas station has expanded into multiple stores with food service, pay at the pump fuel, specialty coffee machines, and much more. "Pete's food service has been a large area of growth for our business. In many of our small towns, our food service is the only type of fast food available," said Peters. 
Pete's prides itself with new innovations and remaining active in statewide and national conferences. "We are customer oriented, we focus our growth on customer needs," said Peters.  
"The vision of Pete's is to better serve their customers and communities. LCC and Pete's are similar in that way. LCC is constantly focusing on ways to better serve our customers (our students) and our community," said LCC President, Dr. Mark Watkins. 
LCC is essential to the growth and success of the communities it serves.  "Many of our employees, customers, and many in my own family have received their education at LCC. Those individuals are valuable employees and contributors to our communities," Peters said of LCC. "My wife and daughter are both products of the LCC Nursing program, which provided them an excellent education and prepared them for great careers." 
"In order to perpetuate growth, we have to invest in our community. Supporting LCC is key to gaining educated and employable members of the community," Peters said of the campaign. "Supporting the expansion of the academic and athletic complex, is more than just funding this particular building project, it's about giving back and supporting LCC which is so important for our community."
In 2017, the Cardinal Villas, a 144-bed student housing complex for LCC students was opened next door to a Pump'n Pete's convenience store on Main street of Parsons. "We have seen an increase in foot-traffic and sales because of the close proximity to the student housing. In fact, we just poured a side walk between our store and the Villas for easier access for the students!" 
Peters believes the academic and athletic facility expansion and renovation is very needed. "Visible improvements always help business," said Peters. "A quality facility will help LCC with recruiting more students, which is beneficial for the college and our community."
In addition to their support of Labette Community College, Pete's of Erie supports many other local and school causes in each town they have a store. Pete's is an annual sponsor to the LCC Foundation Auction for Scholarships. Pete's also believes in the value of the Court Appointed Special Advocate (CASA) program, in which they have been a title sponsor for many years. Pete's utilizes their multiple store locations as a vehicle for fundraising for CASA. 
The generous $100,000 gift from Pete's brings the fundraising total to just over $4.2M toward the $6.7M goal. The campaign will make it possible to update and expand the athletic facility, add $1M to scholarship endowment, and increase annual fund giving. The updates to the facility will include providing air conditioning, new seating, and other needed renovations to the current gym. It will also make it possible to construct a 21,850 addition to house: classroom space for Exercise Science, Athletic Training, and Physical Education programs; indoor softball/baseball training area; wrestling training area; lockers; showers; weight room; and cardio room. This project will bring LCC's facilities up to the standard of other Kansas Community Colleges.
"It is so inspiring to know that business owners see the immense value of our college and are willing to give generously to help us serve students better," Lindi Forbes, Foundation Executive Director said. "Local business leaders, like Gratz & Gary Peters, who are passionate about education are making LCC much stronger that we could be alone. We are extremely grateful for this gift."
Private support for LCC's capital campaign can come through outright gifts of cash, bequests, life insurance policies, gifts of real estate, and other giving mechanisms. Individuals or businesses can choose to give in a variety of ways, even to spread out payments up to five years. This makes the giving capacity larger and more feasible for more people. 
For more information on how to give to the Pathways capital campaign, please contact Forbes at 620-820-1212 or lindif@labette.edu. Gifts may also be mailed to: 200 South 14th, Parsons, KS 67357.