LCC Honors Two PTK Students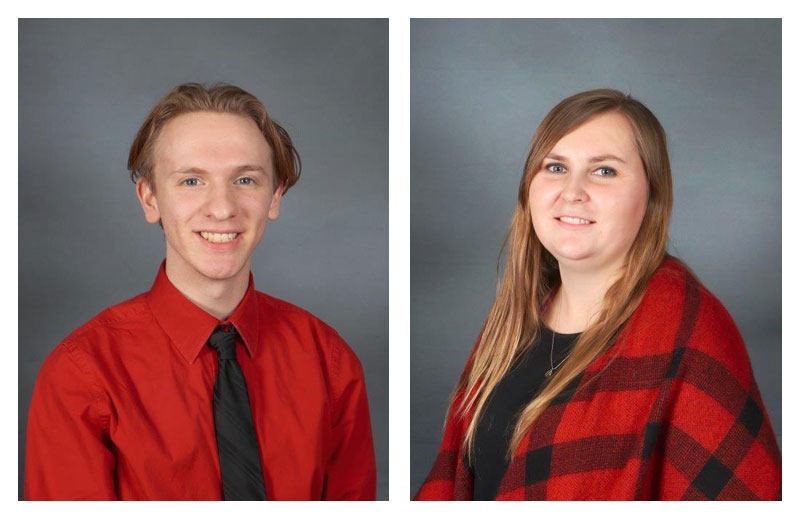 Parsons, KS- Labette Community College has named Ashley Horton and Peyton Simpson to the All Kansas Academic Team for 2021. The two Tau Theta Members of Phi Theta Kappa will be honored during virtual event in March. 
Kansas is one of 39 states participating in the All-State Academic Team program. The State Academic Teams were introduced in 1994 as a way to provide scholastic recognition to Phi Theta Kappa members, while promoting excellence at two-year colleges. The State Academic Teams are a division of the All-USA Community College Academic Team. The All-USA Academic Team recognizes high achieving college students who demonstrate academic excellence and intellectual rigor combined with leadership and service that extends their education beyond the classroom to benefit society. The All-USA Team program is sponsored by Follett Higher Education Group with additional support provided by the American Association of Community Colleges and Phi Theta Kappa. The Kansas All-State Academic Team is designed to provide the same kind of recognition to our state's two-year college scholars by saluting their academic achievement, leadership, and service. This is the 27th year for the All Kansas Academic Team.
Ashley Horton of Farlington, KS is an elementary education major with a 3.69 grade point average. At Labette Community College, Horton is a member of Phi Theta Kappa and an officer. She stays active with her fiancé, Matthew Sisney and their children, Everli and AnnaMae. She plans to transfer to Pittsburg State University in Pittsburg, KS. Ashley is the daughter of Gary and Danielle Horton. 
Peyton Simpson is a Graphic Design major with a 4.0 grade point average. While attending Labette Community College, Simpson has been active as a Phi Theta Kappa member earning third place as a Distinguished Chapter member for the Kansas Nebraska region. He is also Student Government Association President, Graphic Design Club Vice President, Phi Beta Lambda member and national champion in Desktop Publishing. He plans to transfer to Pittsburg State University, Pittsburg, KS. Simpson, of Columbus, KS, is the son of Sherry Simpson and Jeff Simpson. 
Horton and Simpson will be honored with a medal, certificate and a $300 stipend. Being named to the All-Kansas Academic Team guarantees them a minimum of a $1000 scholarship at one of the six Regents University, Washburn University, and several private colleges in Kansas. Phi Theta Kappa is the national honor society of the two-year college. Students must have at least a 3.5GPA or better to be accepted to the organization. The purpose of Phi Theta Kappa is the promotion of scholarship, the development of leadership and service, and the cultivation of fellowship among qualified students.