McKenzie Named Van Meter Award Recipient
---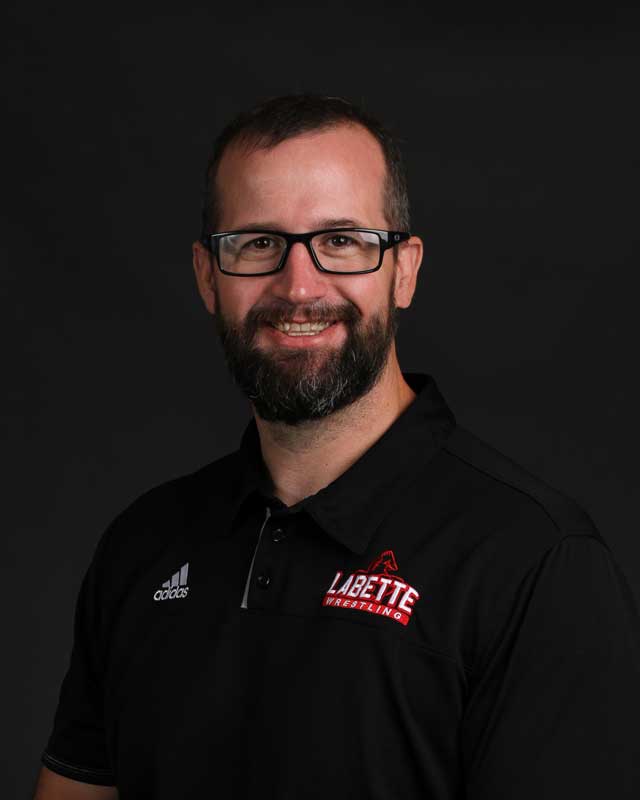 Parsons, KS- The Labette Community College Alumni Association announces the 21st Annual William & Allene Guthrie Van Meter Outstanding Alumni Achievement Award. The 2021 recipient of this prestigious award is Ben McKenzie. 
McKenzie is a 1999 graduate of Labette Community College.  Ben attend LCC after graduating from Parsons High School in 1996. After attending Independence Community College for one semester on a football scholarship, Ben returned home to Labette Community College to join the wrestling team. He was an active member on the wrestling team, competing for two and one-half seasons.  Ben was also a student athletic trainer at LCC and graduated with an Associate of Science in Athletic Training.
After graduating from Labette Community College, Ben accepted a wrestling scholarship at Augustana University in Sioux Falls, SD. At Augustana, Ben majored in Athletic Training and served as the head student athletic trainer for the baseball team and also completed athletic training internships with the Sioux Falls Storm semi-professional football team and the Sioux Falls Stampede semi-professional hockey team. Ben was also a two year starter on the varsity wrestling team. In May 2001, he graduated with a Bachelor of Arts in Athletic Training.  
In June 2001, Ben passed the National Athletic Training Board of Certification Exam and became a Certified Athletic Trainer. He accepted a position as a Staff Athletic Trainer at Hays Medical Center in Hays, Kansas where he provided primary athletic training services at the Center for Health Improvement and athletic training coverage to Stockton, Plaineville, and Palco High Schools. 
In 2002, Ben returned to Parsons after accepting the Head Athletic Trainer position at Labette Community College.  The position was a collaboration between Labette Health and Labette Community College and the first ever full time Athletic Training position employed by LCC. Ben provided athletic training services to all six LCC NJCAA athletic programs while also providing outreach coverage to area high schools.   Ben also began teaching for the college at the same time.  In 2004, Ben also began to run the Physical Education, Recreation, and Athletic Training academic programs at Labette Community College.  He served as the head athletic trainer for the 2005, 2012, and 2013 National Champion wrestling teams, the 2010 women's basketball NJCAA 3rd place finish and many other athletic team accomplishments.  Ben had the pleasure to work with over 60 all-American athletes during his time as head athletic trainer.  "Some of the fondest memories in my life and career were witnessing the success of our student athletes in their playing environments and in the classroom. I was always honored to play a small role in their success," McKenzie said.
After 12 years serving in an adjunct faculty position teaching Physical Education, Recreation, and Athletic Training academic programs and serving as the program coordinator/advisor role for 10 years, Ben accepted a full-time faculty position in Exercise Science.  He worked to expand and create an additional academic program at LCC to include Exercise Science.  "I really enjoyed the classroom and took my role as an educator with great pride.  I believe I was nominated for adjunct faculty of the year or faculty of the year in five separate years.  It always meant a lot to me to know that students enjoyed my courses enough to take the time to nominate me for those awards.  I was fortunate to have some great students," he said. Beginning in 2015, Ben also served two seasons as the head wrestling coach while remaining in his faculty role.  The 2016-17 wrestling team had two All-Americans and finished in 15th place at the NJCAA National tournament.  
After 16.5 years at Labette Community College, he accepted a leadership position at Moraine Park Technical College in West Bend, Wi. As the Associate Dean of Health, Ben oversees six associate degrees, three technical diplomas, and several health science pathway certificate programs. He leads a team of 13 full time faculty and 10 adjunct faculty. Ben's Health Science team has maintained a collective national exam pass rate over 90% with the Respiratory Therapy Program being identified as a program of excellence in 2019 and again in 2020.  He has completed two successful accreditation visits in the past year both coming back zero program citations and full accreditation awards.  "It takes a team to find the successes we have found in our health science programs," McKenzie said. "I am fortunate to lead a dedicated team who collaborate very well with student services to ensure students have a great experience. Our strength, dedication, and resiliency were all highlighted during the Covid-19 pandemic and we all came together to keep our programs and students safe and successful." 
Ben also co-leads the MPTC Teaching Fellows, a dedicated group of college-wide faculty identified for their commitment to teaching excellence.  The Teaching Fellows collaborate and research academic excellence in the classroom and share their work at a college-wide presentation annually; and regularly present their work to the entire Wisconsin Technical College System at the annual C3 conference.  Ben also serves on the Wisconsin Technical College System Health Science Disability committee and collaborated to develop the "Best Practice in Health Science Technical Standards" guidelines document. 
Ben has also remained active on community boards, events, and in local youth sports.  He served several years as president on the Parsons Recreation Commission and served on S.H.I.F.T.  Labette County.  From 2016-2019 he was also a co-owner/founder in a local business, B's Massage and Yoga. Ben enjoys a number of outdoor activities and spend most his free time watching his daughters play competitive hockey. Ben, his wife Holly, and daughters Tylie and Rowen, currently reside in Kewaskum, WI.  
The Van Meter award will be presented at a private luncheon in December. The award was named in memory of the Van Meters for their generous estate gift that funded renovation of Thiebaud Theatre at LCC. William was a 1929 graduate of the college and Allene taught romance languages at the college from 1929 to 1935. Previous Alumni who have received this award include; James Wesley in 2019, Josh Whetzel in 2018, John Kelley in 2017, Bonnie Houk in 2016, Melissa Morris in 2015, Kevin A Moore in 2014, Dr. Douglas A. Gardenhire in 2013, Gary Bandy in 2012, Dr. CJ Huff in 2011, and Dr. Jerry Bouman in 2010. For a complete list of recipients or for more information on the William and Allene Guthrie Van Meter Outstanding Alumni Award, please contact Lindi Forbes, LCC Foundation and Alumni Director, at (620) 820-1212 or by e-mail at lindif@labette.edu.