LCC Host Student Award Ceremony
---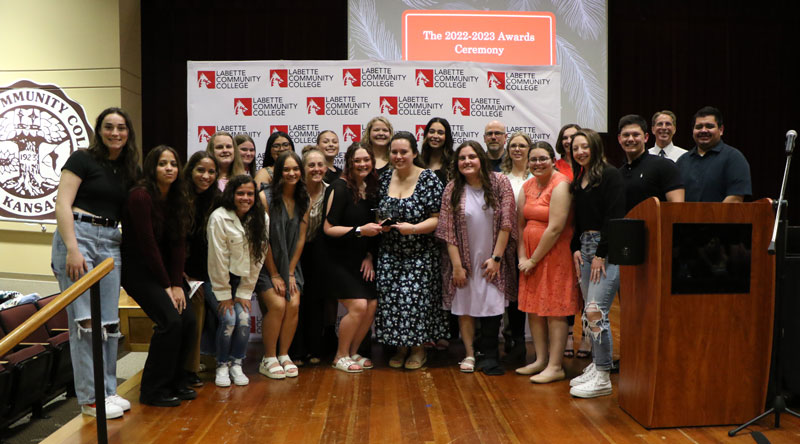 Labette Community College (LCC) hosted the annual spring 2023 Student Awards Ceremony, Wednesday, April 26, 2023, in the Thiebaud Theatre. Students were honored for achievement in academic, leadership, and club participation.
Tammy Fuentez, Vice President of Student Affairs and Dr. Mark Watkins, President, presented the Top 20 Cardinal Award. This award is presented to students who went above and beyond to help LCC become a better place. The criteria for this award are based upon GPA, school, and community involvement. The Top 20 Cardinals for 2023 in alphabetical order are:
Copenhagen Browning- Mound City, Kansas
Hayley Bonython- Adelaide, South Australia
Brooklyn Chase-Baldwin City, Kansas
Katie Crowe- Carthage, Missouri
Mariah Curley- Oklahoma City, Oklahoma
Haley Farran- Girard, Kansas
Addisyn Fowler- Fort Scott, Kansas
Letícia Lima Franco- Recife, Brazil
Mariana Franco- Recife, Brazil
Paige Hunt- Columbus, Kansas
Timothy Lamb- Delight, Arkansas
Emily Langston- Parsons, Kansas
Jenna LaRue- Erie, Kansas
Karie Leslie- Parsons, Kansas
Kimberly Lewis- Baxter Springs, Kansas
Mackenzie Martin- Mound City, Kansas
Rachel Schneider- Rockville, Minnesota
Brooklynn Tinker- Walnut, Kansas
Abegail Wilson- Pittsburg, Kansas
Henrietta Wyland- Parsons, Kansas
Lindi Forbes, Executive Director of LCC Foundation and Alumni Association presented the Cardinal Leadership Award to Harrison Hall from Altamont, Kansas. The leadership award was established in 2015 by an anonymous donor to recognize students who display outstanding leadership while attending LCC. Hall received a personalized desk pen set that can be taken with him wherever he goes in life after LCC. This memento is meant to serve as a source of pride for what they accomplished while at LCC and inspire them to keep serving as leaders throughout their lives.
The LCC Library awarded its 20th Annual "Paper of the Year" Awards. This award honors the best writers of research papers and the creative talents that exist within the walls of the College. The award was inspired by students doing research in the library on topics that were above and beyond the normal topics. The first-place winner each year receive a plaque, a certificate, a check, and the paper is added to the library's permanent collection. The second place and third place winners will receive a certificate, a check of lesser value than first place. A list of the past winners of the award, along with the criteria, and application to submit papers, can be found on the Paper of the Year web page at labette.edu/library.
This year's winners, who will be added to the page are, in third place, Quay Blurton for the paper, Make It Out. In second place, Sean Therrien for the paper, We Know What You Did. A tie for first place was awarded in two separate categories. Tobin Clark received first in the Creative Division with the paper, Meat Manikin. Esmirna Perez received first place in the Research Category with the paper, To Better the Race.
The Student Government recognized LCC's 5-Star Student Organizations who help the college and students succeed and be successful. The following organizations received this award:
Cardinal Crew
FBLA Collegiate
Phi Theta Kappa
Psychology Club
Radiography Club
Spirit Squad
Student Ambassadors
Student Nurse Organization 
The ceremony ended with recognition of the 2022-2023 Student Government Association (SGA) members for their commitment to ensure a safe, fun, and meaningful environment throughout the year for all students. Student Life Specialist and SGA Advisor, Harrison Hall presented certificates to the SGA 2023 officer team.
SGA President – Mackenzie Martin

SGA Vice President – Henri Wyland

Secretary – Haley Farran

Treasurer – Abegail Wilson

Senator- Rylee Black

Senator- Tianna Bauder

Senator- Hayley Bonython

Senator- Chelsey Walker

Senator- Jacey Whitcomb
Hall then announced the SGA officer team for 2023-2024 school year.
Treasurer – Maddyson Tyler
Secretary – Mia Howard
Vice President – Mary Jane Emerson
President – Haley Farran
Then Martin, passed the gavel to incoming SGA President, Farran.