LCC Phi Theta Kappa Receive International Recognition
---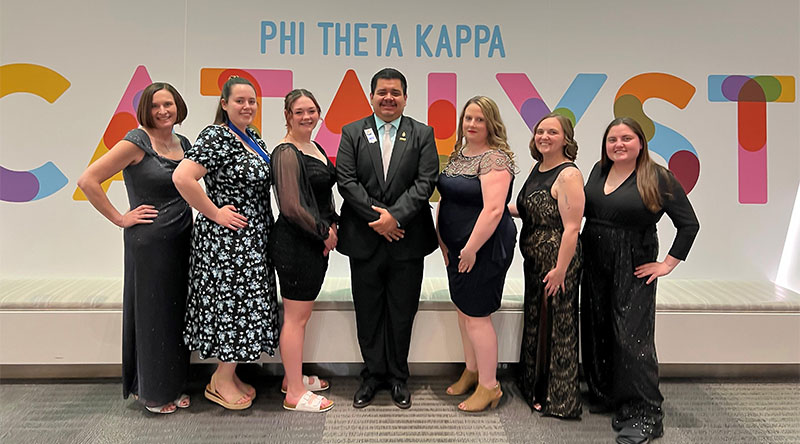 LCC's Phi Theta Kappa Tau Theta Chapter attended the International Conference in Columbus, Ohio. Pictured attending is Tammy Fuentez (advisor), Haley Farran, Brooklynn Tinker, Jesus Medina (assistant advisor), Jillian Teel, Abigail Vincent, and Abegail Wilson.
The Labette Community College (LCC) Phi Theta Kappa organization traveled to Columbus, Ohio for the International (Catalyst) 2023 Convention on April 18-23.
Convention attendees heard from speakers, award winning Actor Geena Davis, and NFL Player Manti Te'o. LCC Tau Theta members also attended educational forums on the honor society programs and other informational sessions.
During the convention, the chapter attended an award ceremony, where the chapter received multiple awards through competition. The chapter competed against 1,300 International Phi Theta Kappa Chapters. The Tau Theta chapter received the following awards:
Distinguished Chapter Award (Top 40 chapters receive this)
Honors in Action Theme Award (Only 3 chapters per each of the seven themes receive this)
Honors in Action Award (Top 50 chapters receive this)
Distinguished Chapter Officer Team Award (Top 30 teams) – Haley Farran, Taylore Hudgins, Baylee
Montee, Abigail Vincent
Individuals receiving recognition on the international level are:
Haley Farran – Distinguished Chapter Officer Award (Top 30 officers)
Brooklynn Tinker – Distinguished Chapter Member Award (Top 30 members)
In addition, Haley Farran, and Copenhagen Browning serve as Kansas/Nebraska Regional Officers and Advisor Tammy Fuentez serves as the Regional Coordinator. The Regional team was recognized as a Five Star Region and earned a Hallmark Award of Excellence in Service.